We use dedicated spam filtering servers, with definitions updated by human spam editors every 5 minutes to ensure spam and virus email never makes it to your inbox.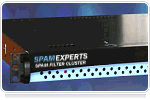 SpamExperts spam filtering is included as standard with all web hosting accounts.
Included with all hosting packages is a powerful, industry-leading, anti-spam system from SpamExperts. We run our own dedicated cluster (with SpamExperts appliance software) to ensure your inbox remains clean of spam and harmful mail.
Overview of SpamExperts
Much like a PC virus scanner uses virus definitions, SpamExperts uses spam definitions to identify and remove spam emails before they reach your inbox. The spam definitions are updated in realtime by real human spam editors to ensure even the most recent spam outbreaks are filtered guaranteeing maximum effectiveness.
Traditional spam filtering used by other hosts, such as SpamAssassin use keywords to guess which emails might be spam – this leads to high false-positive rates (genuine emails being lost). Because SpamExperts does not use traditional scoring, and does not guess which emails may be spam, it leads the industry with a false positive rate of less than 1 in 1 million.
SpamExperts runs on our own dedicated cluster of servers based in both the UK and US, this not only adds redundancy to your email, but also means spam is filtered before it even reaches your mailbox, saving resources and improving your email experience.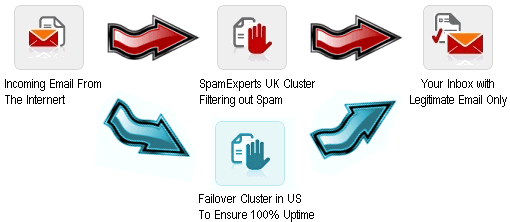 Key Benefits of SpamExperts Cluster
Accurate spam filtering with 99.999% of spam removed from your email.
Spam, Virus, Phishing and Malware all blocked.
Dictionary and other email 'attack' blocking.
Clustered in UK and US to ensure 100% Uptime and reliability.
Login anytime to view reports and your quarantined email.
Simply click a link to release a quarantined email you wish to view or receive.
24/7 updates to our spam filtering rules being applied in realtime by humans.
Included with all web hosting, we include it free with our hosting.
Fully managed solution so you do not need to worry or waste time with spam again.
Summary
Does your current host provide an effective spam and virus filter? Our own consumer research in 2008 showed Spam as the number one concern for hosting users. We decided to be pro-active and eliminate this concern for all of our clients. Try totalwebsystems today and witness for yourself just how good SpamExperts is at filtering spam and virus from your inbox.
Read more about the solution we use on the SpamExperts website: www.spamexperts.com